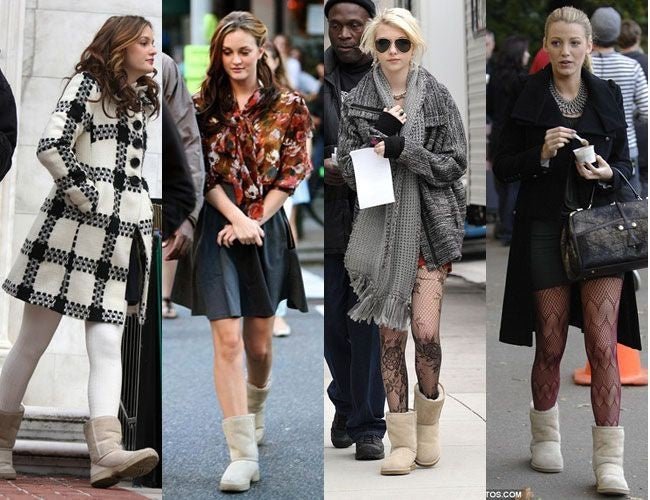 I love my UGGS!  The comfy feeling I get slipping them on makes my whole body feel good.  The feel of the fur against my feet, ankles and calf reminds me of when I put on mittens to go outside on a snowy day.  I wear them casually to run my errands as well as formally to compliment my cutest outfit when out with my girls.  Honestly, if my husband would let me, I would even consider sleeping in my UGGS.  Plain and simple, UGGS are awesome (UGGS Homepage).
However, the one thing they lack is good arch support.  I do a lot of walking and by the end of the day my feet and legs are tired.  Although I wear orthotic inserts in other shoes, I never really considered them for my UGGS.  This was mostly because I thought it might interfere with that "comfy" feeling I get every time I slip on those wonderful boots.  The comparison that I drew in my mind was putting orthotic insoles into my UGGS would be like putting orthotics into my slippers.
BUT BOY WAS I WRONG!  Not only were the insoles really easy to slip in but I could instantly feel the difference in support that they give my arch.  I think the roominess of the UGGS compliments the use of an orthotic insole.  There is plenty of room for the insole and my feet do not feel cramped inside the boot.  The best part is that my UGGS remained as comfortable as ever and provided me with arch support.  Once I inserted the insoles, I found that having proper arch support made my legs and feet feel more invigorated even after a long day walking around. 
I highly recommend inserting insoles In your UGGS to achieve proper foot care.  If you are lack proper arch support it can lead to the following conditions (Better Health):
• Arthritis
• Bursitis
• Flat feet
• Heel spurs
• Injuries
• Back pain
• Bunions
• Diabetes
• Hammer toes
• High arches
• Plantar fasciitis
You will need to consider your arch type (flat, mid, high) to pick the right inserts when wearing your UGGS.  It is also important to think about how often you will wear your UGGS, since you want a sturdier insert if you wear them daily and for extended periods of time.  These factors will help determine which inserts are the right choice for you. One of the best options includes customizable arch support shoe inserts like SelectFlex.  These orthotic insoles are not typical shoe inserts, as they offer customizeable arch support through their patented PowerLift Arch® suspension system.
Now is the time to make sure that wearing your UGGS is the perfect experience with proper arch support, and you can do that for your feet with SelectFlex Arch Control Insoles. This allows for optimal support and comfort with every step that you take. Along with good routine foot care, you can significantly reduce your risk of serious foot problems. Take control of your Foot care today! Find out more about this special Arch-Control Insole.
                                                     FOLLOW US